Fees and Payment
Era Health is a mixed billing practice and fees are payable at the time of consultation for all services other than those requested by a company.
Our fees are determined by a combination of economic factors including the Australian Medical Association and the Australian Dental Association recommended rates and costs associated with running a practice.
The fees listed below are indicative only of fees billed by our health professionals. Charges will vary depending on the length of time you spend with the professional and the complexity of your health condition.
Fees for doctors (as at 1 July 2018):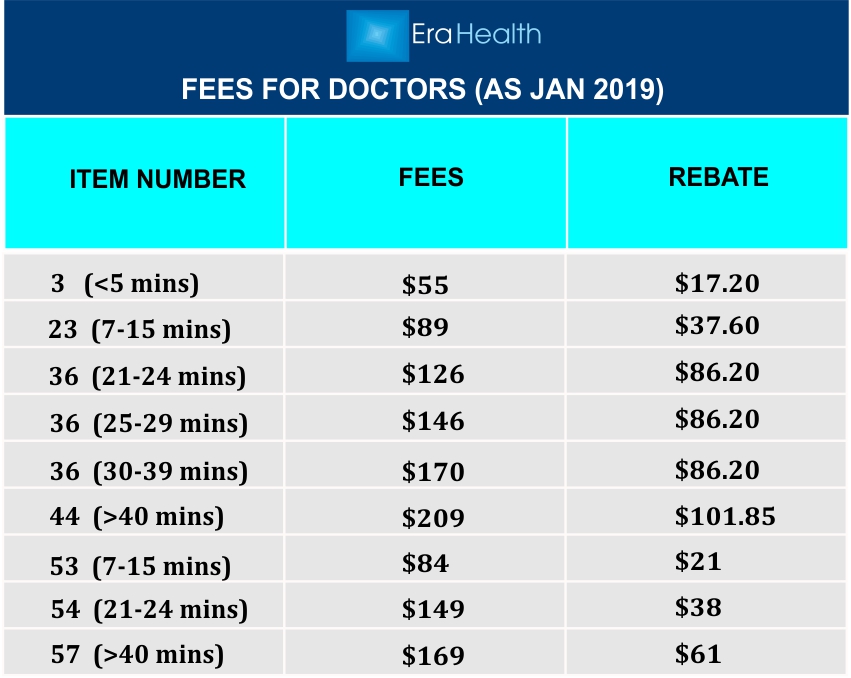 2019 Appointment Fees when you see a Doctor at our Medical Center
Fees for other professionals (as at 1 July 2018):
 Professional
Service
Fee
 Dentist
 Initial Exam
 Scan and clean
 X Rays (if need it)

$70
$125
$50 each

 Podiatrist
Standard consultationFollowing

$98

 Psychologist
Standard consultation  

$160

 Physiotherapist
Consultation (30 minutes)Consultation (60 minutes)

140
Other points:
Consumables used as part of your treatment may attract a separate fee.
Travel vaccines will incur an additional fee
Cancellation fees may be charged for failure to attend.
Fees for other services are available from reception.
Repeat Prescriptions, Referrals and Pathology and Radiology Tests:
Doctors providing prescriptions, referrals to either specialists, radiology or pathology tests are responsible ethically and legally to ensure that these are correct and warranted. A consultation, therefore, with a doctor will be necessary even if the referral or prescription has been recommended by another professional.
Appointments with specialists and pathology radiology tests may incur additional charges.
All telephone requested replacement scripts and referrals posted out to patients will incur an administration fee.
Payment
We accept payment by cash, Visa, MasterCard and American Express.
Rebates from either Medicare or your private health fund can be processed at the time of payment using our Hicaps system.  For eligible services, your rebate is then automatically paid back to your account.