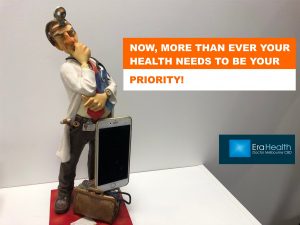 Telehealth Appointments
Now, more than ever your health needs to be your priority. Telehealth or face-to-face consultations are here to help
Did you know you can book and attend your appointments at Era Health Doctor Melbourne CBD via Telehealth or face-to-face consultations?
Until 30 of September 2020 patients are eligible to use telehealth via phone or video for all regular appointments, GP management plans and mental health plans, so there is no need to wait for your health needs even if you are isolating at home.
https://www.health.gov.au/ministers/the-hon-greg-hunt-mp/media/covid-19-whole-of-population-telehealth-for-patients-general-practice-primary-care-and-other-medical-services
For GP consultations, telehealth consultations will be bulk-billed if you have a health care card, are over 70, ATSIC or have a chronic health condition. Any patients experiencing financial difficulties due to the current crisis will also be bulk-billed for telehealth.
For Psychologist consultations- teleheatlh consultations are available, but you need to ensure that you have a current mental health care plan to be eligible for medicare re-imbursement.
How to book Telehealth Appointments:
You can book a telehealth appointment on our website using the "Book Now" button or via the Appointuit Online Booking App – the same way you would book any normal appointment, or you can call the clinic to arrange this.
For phone appointments, you will receive a call around your appointment time
Flu Vaccination
At Era Health Doctor Melbourne CBD, you can have your Flu Vaccination, WE STILL HAVE STOCK.
The vaccines are quadrivalent influenza vaccines (QIVs) and are available for everyone aged 6 months or over.
The flu vaccine is free for those aged 6 months – 5 years and those aged 65 years or over. There is a small fee for all others.  Please note that consultations for the flu vaccination only are bulk billed.
For appointments:
Go online (https://www.erahealth.com.au/)
Email the clinic (info@erahealth.com.au)
Call the clinic (9944 6200)